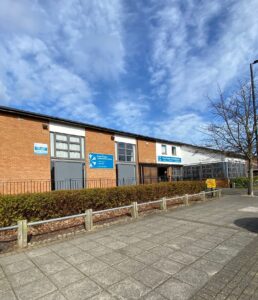 Linskill and North Tyneside Community Development Trust has secured a £46,251 grant from Biffa Award for its Royal Quays Community Centre Improvement Project.
Biffa Award is a multi-million pound fund that helps to build communities and transform lives through awarding grants to community and environmental projects across the UK, as part of the Landfill Communities Fund.
The improvement project was awarded funding under Biffa Awards Community Buildings theme. This fabulous and much needed project will make the Centre warmer and greener by replacing old windows to reduce heat loss and carbon emissions, reducing energy costs in the process. Internally facilities will be improved through the provision of new kitchen and toilets, the construction of a community room and with new flooring throughout.
The Trust took over Royal Quays Community Centre on a permanent basis in April 2020 and is committed to meet the needs of local people by providing a variety of groups and activities in the Centre.  Use of the Centre has been hampered by its poor condition, lack of flexible community space and low heat levels which have prevented some of those interested in running activities for the community from doing so. The improvements will attract new groups to the building and provide a better experience for those already using it. The new kitchen will be of particular benefit for delivering a lunch club for older people from the area.
Simeon Ripley the Trust's CEO said: "We are delighted that Biffa Award has chosen to support the plans we have for improving Royal Quays Community Centre which we developed through consultation with centre users. The improvements will attract more groups and activities to the Centre for local people.  The changes to the windows will reduce heat loss and carbon emissions and the cost savings will help us ensure the centre is financially sustainable".
Rachel Maidment, Biffa Award Grants Manager, said: "It is so important that we continue to invest in community buildings which are at the heart of their communities. Supporting the project to replace the windows and improve the indoor facilities at the Royal Quays Community Centre will ensure that the community has a fit for purpose building to use for years to come. Projects like this provide the means for a community to thrive."