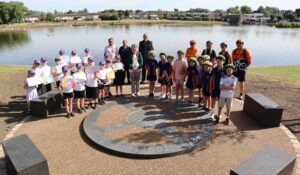 With help from the local community, areas of reflection and contemplation have been created by North Tyneside Council and were officially unveiled today (18 July).
Special reflection spaces have been created in five areas across North Tyneside – all connected to the borough's 30-mile waggonway network.
The areas are places where people can visit to remember the loved ones that they tragically lost during the coronavirus pandemic, as well as offering a space to reflect on the impact the pandemic had on us all and remember the ways in which people came together to support one another.
Earlier in the year, the central site opened at Silverlink Biodiversity Park and now the four other sites were officially unveiled today (18 July) at Killingworth Lakeside Park; Wallsend Hall grounds; Redburn Dene Park in North Shields; and Souter Park in Whitley Bay.
All of the reflection areas are based around the theme of a compass, detailed in decorative hard landscaped paving, with seating provided and natural planting, and local businesses helped to create them.
And the final four sites are particularly special as residents chose the designs for the centre of each of the compasses during the pandemic.
Drawn by a local artist, the designs are unique to the areas in which they're located and include George Stephenson's locomotive, St Mary's Lighthouse, fishing and shipbuilding.
Chair of the Council, Cllr Pat Oliver opened the areas today, she said: "I am honoured to be opening these reflection and contemplation spaces and to be joined by many people from the community. These areas are for each and every one of us and all of our residents.
"There is a special significance behind the compass design – the word compass combines the two Latin words – 'com' which means together and 'passus, meaning pace of step. Together, they can be taken to mean 'journey together', and this is something North Tyneside did throughout the pandemic. Community spirit certainly shone through.
"It was hugely important to the council that residents had an opportunity to be involved in their design and I would like to thank those who provided their views.
"Sites that link with the beautiful waggonways were chosen after they were so well used by the public during the pandemic, and we would really like to encourage people to get out and about exploring the routes and each reflection space. It's a great day out and has many benefits for both your health and your wellbeing."
To encourage the waggonways continued use, the council has produced maps so that cyclists, walkers and wheelchair users can easily navigate their way between each or all of the sites.
Community Interest Company (CIC) Bike4Health, which works to make cycling a part of everyday life for people across the North East were also at the opening. They led a ride from the area in Killingworth Lakeside Park to the area in Wallsend Hall grounds with children from Hadrian Park Primary School.
Director David Buchan said: "It's great to be involved in the opening of these brilliant areas.
"North Tyneside is very lucky to have a beautiful 30-mile waggonway which can be explored easily on bike or foot and these reflection areas are a welcomed addition.
"Many cyclists use their rides as a time to reflect and clear their minds and take in their surroundings, just like you can do at these sites. I really hope people spend time cycling to a couple of the sites – or even take on the challenge to reach each one! We're looking forward to doing so with the schools we work with."
They were also joined by children from Grasmere Academy who read out their own reflections on the pandemic. Key Enterprises, a North Tyneside-based charity, attended with people involved in their cycling group, and local ward councillors and faith and community leaders were there too.
The sites in the other areas of the borough brought together children from Richardson Dees Primary School, people who volunteered during the pandemic, LD North East, and Whitley Bay and Monkseaton Bowling Club.
More information, including maps of the routes to the reflection areas, can be found here.
For more information about Bike4Health visit www.bike4health.org.
First published here by North Tyneside Council on 18 July 2022