We are delighted to share with you the recipients of the 2023 VODA North Tyneside VCSE awards, which were presented at our AGM on 7 November. Find out more about each of the winners below.
---
Trustee of the Year – Ben Appleby Dean – Phoenix Detached Youth Project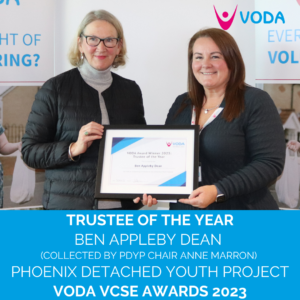 As Treasurer of Phoenix Detached Youth Project for 12 years, Ben has not only ensured that the charity's funding is used correctly but he has played a key role in governance of the organisation and ensuring that safeguarding is in place. He is committed to supporting not only Phoenix's staff but also doing whatever he can for the young people of Riverside and Chirton wards.
The Awards panel felt that Ben has demonstrated commitment and going the extra mile for Phoenix Detached Youth Project helping the Board, management and young people.
Ben was unable to attend on the day, so his award was collected by Phoenix Chair Anne Marron (pictured left with Vicky Smith from VODA).
---
Volunteer of the Year – Becky Porter – Support and Grow North East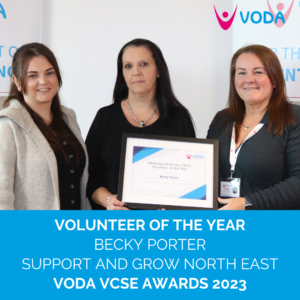 Becky has had a wonderful journey as a volunteer with Support and Grow North East. When she first started to volunteer, she had little confidence and only felt able to work outside alone sorting clothing donations. But with the support of the Support and Grow, she gradually started volunteering inside the centre, welcoming other visitors, and using her extensive lived experience to support and encourage others.
Becky is now Centre Supervisor and has found her voice, often advocating on behalf of clients and facilitating peer support groups. She is much loved by the community and all the families that Support and Grow work with and is an inspiration to everyone.
The Awards panel felt that Becky has demonstrated great commitment to her volunteering. She now contributes greatly to the organisation and is an asset to Support and Grow.
Picture shows Becky with Ashleigh Jones from Support and Grow and Vicky Smith from VODA.
---
Young Volunteer of the Year – James McDonald – Justice Prince CIC
James has also had a remarkable journey as a volunteer. James suffered for many years with anxiety and was not been able to leave the house as a result. But he was determined to do something for his local community and started volunteering with Justice Prince CIC. He initially helped with the food bank, unpacking and organising donated food items. One day a week volunteering quickly developed into two, then three and James became a regular volunteer.
Since then, James helped to set up the Longbenton Youth Group and spent many days walking around Longbenton chatting to other teenagers to gain a real understanding of the issues they face and how they could be supported. He now offers support to other young vulnerable adults, helps in the Community Garden and food hub and makes a real difference to the lives of the young people he supports.
The Awards panel felt that James has shown true commitment to volunteering and is an invaluable member of the team at Justice Prince. Picture shows James with Vicky Smith from VODA.
Young Volunteer Special Commendations
There were two nominations in the Young Volunteer of the Year category that the Panel felt were worthy of commendation:
Wallsend Jubilee Primary School ECO Club for the work they have done in volunteering to make their school and the local area a more environmentally friendly place to live in.
Ella and Lloyd from LD:North East for using their volunteering to create, produce, and deliver sessions at LD:North East which have put smiles onto faces and entertained many who would have been alone.
---
VCSE Organisation of the Year – The Bay Foodbank
The Bay Foodbank currently supports between 150-200 people per day through a mixture of emergency food parcels, support of school breakfast clubs, food waste reduction program and support of pantries in schools/nurseries.
This year has seen a massive 55% increase in referrals when compared to last year but there has been a reduction of 80-90% in donations of stock. The Bay Foodbank hasn't let this deter them and a considerable amount of work has gone in to pivot the organisation into purchasing stock. The volunteers, staff and trustees continue to work tirelessly to help those most in need in North Tyneside and beyond.
The Awards panel felt that The Bay Foodbank demonstrated what an integral part of voluntary sector provision in North Tyneside it is, but that it has shown that it has been able to develop its services and is no longer just a foodbank. Picture shows Joe, Jackie and Maggie from the Bay Foodbank.
---
David Bavaird Award for Community-Minded Businesses
Morgan Sindall PLC

This award was given to Morgan Sindall for their sterling work in providing free-of-charge Mental Health First Aid training to support voluntary and community organisations in North Tyneside.

Rothwell Group

The Rothwell Group has gone above and beyond in supporting voluntary and community organisations in North Tyneside with plumbing work that have enabled community growing projects to develop and thrive.