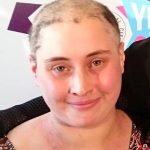 Emma Ramshaw, who volunteers for a variety of charities and organisations including VODA, The Prince's Trust & NCS, has won the Volunteer of the Year award at the Pitman Superachievers Awards 2019.
Emma was nominated by the award by VODA's Social Action Worker Josie Robinson, who works closely with Emma when she volunteers with VODA. Josie spoke about why she nominated Emma for the award: "For over ten years, Emma has given up her free time to a variety of charities and organisations, helping to care and enabling young people to reach their potential. Despite her own uphill battle, Emma continues to create change in our local community. She is engaging, funny, clever, dedicated and passionate about everything that she does. I couldn't do the work I do with young people without Emma; and I am very lucky to not only call her a colleague, but a valued friend. She is the kindest person I know and she absolutely deserves to be recognised for her many years of volunteering in North Tyneside."
Robin Fry, VODA's Chief Executive commented: "We are very proud of Emma, she is an exceptional person who deserves to win this award for her hard work and dedication. Emma has volunteered with VODA for ten years, and despite the challenges she faces in her own life, she continues to help her local community. Her work empowers others and makes a real difference to people's lives."
Visit the Pitman website to view the full nomination and to read about the other winners.