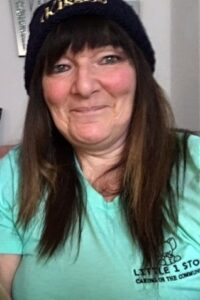 Starting a new charity is never easy, but for Dawn Jobey (pictured left) her dream of creating Little1Stop to support young parents who are struggling to provide the essentials for their babies was not going to be put off by a global pandemic!
Dawn met Julie Hill at her local slimming club and after sharing their stories, realised that the many challenges they had both faced in life had left them with a strong desire to help others who were facing similar challenges to some they had both experienced first-hand.
Dawn commented: "I never wanted others to suffer the way I have and vowed I'd help people."
The new charity was initially going to be called Little Steps, but the pair realised that this name was used a lot in charities, so decided to go for Little1Stop. "Like a small child stopping to see us" said Dawn.
So in May 2020, they approached VODA's Keith Hardy to start the process of creating their new charity. Keith supported them with advice and guidance and helped with the paperwork to get the charity set up and their charitable status was confirmed in September 2020.
While waiting for their charitable status, Dawn and Julie were keen to get started as they could see the impact Covid-19 was having on the local community. They created a Facebook page for Little1Stop and started collecting donations. This quickly gathered pace and the pair have been extremely busy supporting families with clothing, high chairs, cots, prams and toys for babies up to 2 years, as well as working with other groups.
They approached North Tyneside Council for help to find premises and at the end of 2020 took possession of a unit on Howard Street in North Shields. "Matthew, Niall and Felicity at the council have been fantastic – we are so grateful for their support" said Julie.
The original intention was to open their doors in January 2021 and they worked very hard to get ready for this date, however a national lockdown put a stop to their plans.
Not to be deterred, Julie and Dawn turned to social media to promote the shop's click and collect service of low cost pre-loved baby items for families who may not be able to afford to buy new. The charity also takes referrals for families who are most in need and have provided them with prams, high chairs, cots, bedding, clothing and coats and shoes. They also donated items to other charities during lockdown.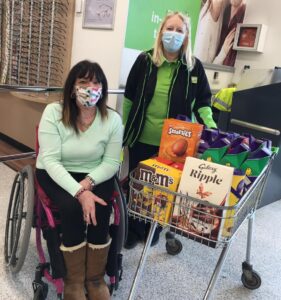 The charity has been self-funded so far and is reliant on donations. The sales of pre-loved items from the shop in Howard Street helps to cover the costs of running the charity.
Julie has since decided to step back from the charity, but Dawn is determined to carry on to help those most in need and is already in the process of moving the shop to a bigger unit, just a few doors away.
Dawn commented: "I feel so very close to this charity and would have loved something like this when my granddaughter was born."
You can find Little1Stop on Facebook and when they are allowed to reopen you can visit them at: 101 Howard Street (previously 104 Howard Street), North Shields, NE30 1NA
The charity also received recognition in the Spirit of North Tyneside Celebration in December 2020, a joint initiative by North Tyneside Council and VODA, for its work last year supporting the local community.