As we prepare to say goodbye to our fantastic CEO Robin Fry on 29 September, Robin has shared his reflections on what brought him to the VODA and the voluntary sector and his experiences of being our Chief Exec… 
My 21 years as a VODA employee can be traced back to a moment in 1999 when, lacking any purpose or direction and suffering from poor mental health, I filled out a Time Bank postcard in North Shields library. The card reached Vicky Cowx who invited me over to VODA's Volunteer Centre for a chat. A few weeks later, thanks to Vicky's unerring support and encouragement, I was volunteering with the RSPB ('the bird people') and LDF (now LD North East).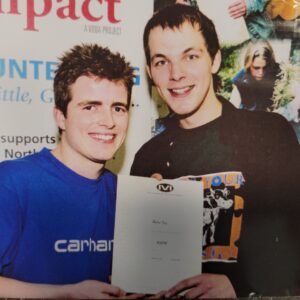 Although I was initially way out of my comfort zone, volunteering gave me the environment I needed to get things back on track – I felt accepted as part of a team, I realised I had something useful to offer and my contribution was valued by others. This month I leave my role as Chief Executive Officer at VODA safe in the knowledge that we have built a culture that prioritises staff feeling safe, valued and fulfilled. It's perhaps only now, in such a reflective state, that I realise why that culture has always felt so important to me.
Making the leap from volunteer to employee required some gentle encouragement but, in August 2001, I plucked up the courage to put myself forward for the position of VODA's Millennium Volunteers Co-ordinator. Thankfully, the interview panel saw beyond my shabby appearance (hard to believe?) and offered me the job based on the skills and experiences I had built up as a volunteer.
I'm aware that my path to becoming VODA's CEO has relied on people believing in me just enough to give me a chance, and even when things haven't always gone according to plan I've been given the chance to dust myself down and try again. I'm hugely grateful for this. I hope I have been able to show the same belief in others.
My various roles at VODA have allowed me the privilege of meeting and working alongside some incredible people. I've been humbled by other CEO's commitment to their charity's cause, I've learned about the importance and fragility of integrity, and the benefits of taking the long path, working at the speed of trust, rather than being tempted by quick wins and shortcuts.
My 21 years at VODA has offered plenty of challenges. The pandemic brought most organisations closer together around a clear and singular focus but also caused some friction in the VCSE sector, perhaps due to individual vulnerabilities. I realised during this period that VODA is an organisation full of great leaders and I'm confident that this sense of shared leadership will see the charity through many more challenges to come.
There's a lot I'm going to miss about my current role. The supportive and ambitious relationships developed through the recent VCS Leaders programme, the energy for collaboration via the Better Together group, and the impossible challenge of representing the best interests of 500+ VCSE sector groups in strategic meetings. Most of all I'm going to miss the energy, enthusiasm and unbreakable passion of our amazing staff team. It's because of their greatness that I can leave the organisation safe in the knowledge that it will go from strength to strength.
To everyone I've worked with over the last 21 years, thanks for believing in me.
Robin Fry