Helping businesses make a difference in their local communities
The Sector Connector project supports businesses to develop their Corporate Social Responsibility and get more involved with the community in North Tyneside by linking them with local groups and organisations that need help.
Whether it's the donation of time, sharing skills, delivering workshops or employee volunteering, Sector Connector can help businesses to make a positive impact on the people and environment around them, whilst enjoying the benefits of giving something back.
Areas that businesses have offered their support in include:
Finance and accounts
Health, safety and risk management
Design and branding
Human resource
Web design, development and hosting
Marketing and PR, including rebranding
Business planning
Insurance and legal issues
Property renovation, management and maintenance
Meeting rooms on loan
Surplus furniture and equipment
Sector Connector News
Our Sector Connector News section contains details of current requests of support from the local community, details of current trustee vacancies and news of events and other opportunities relevant to the project.
Sector Connector Bulletin
Sector Connector sends out a regular e-bulletin to keep business up to date on what is happening and requests for assistance or support from voluntary and community organisations in North Tyneside. If you would like to be included on the mailing list, please sign up here.
View our special edition printed bulletin from July 2019 here. With thanks to our friends at yourPrintDepartment for making this happen!
Awards scheme
As a way of recognising those businesses that have supported the community through the project, Sector Connector coordinates Community Friendly Business Awards. These are given on three levels: Gold, Silver and Bronze based on the amount of time or support offered. Qualifying businesses receive a certificate, official branding and lots of positive publicity! View all of the 'businesses on board' the Sector Connector project here.
Get Involved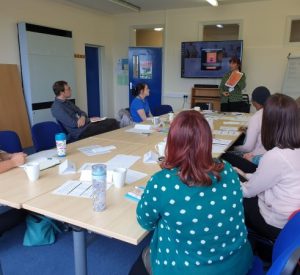 Deliver a Workshop
Use your expertise to deliver a two hour workshop for the benefit of voluntary and community organisations – contact us to discuss this option.
Donate your time, expertise or resources
By offering to work one-to-one with a group or organisation, you can make a huge impact – please get in touch to find out more.
Employee Volunteering
Whether it's a one-off volunteering effort or regular support, there are many benefits to all involved – read more here or contact us to find out more.
Case studies
Chartered surveyor Ian Gardner of Bowes Gardner Associates gives pro bono support to local groups with properties such as community centres or youth clubs, which need maintenance or renovation. "Through Sector Connector the links are directly to individuals involved with organisations that act for and to the benefit of the community, which is much more fulfilling provision of professional advice, from my point of view. The point is that I don't need to get anything out of it; it is a case of giving something back. All of that professional work is fulfilling. There is a "feel good" factor and that I cannot deny!"

"I only have one certificate on my office wall and that is the Sector Connector Community Friendly Business Certificate; I am extremely proud to have been able to make a difference in my local community. One of the groups I have helped was Linskill Healthy Walks and I worked with them to develop a business plan which helped them to secure grant funding to increase their offer. I actually live very close to where they meet and when I see them on a Thursday setting out on their walk I know I have helped them do that."