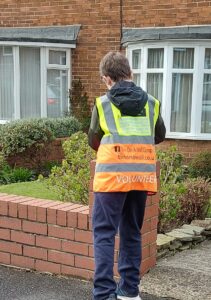 Tin On A Wall is approaching collection number 30 and is celebrating by becoming a Community Interest Company!
Tin On A Wall is a once a month volunteer driven none-perishable food collection which started in July 2020 in North Tyneside to support food services during the pandemic. After a few months, volunteers in Newcastle also wanted to join the campaign so they expanded into Walker and North Newcastle including Gosforth, Wideopen, Hazlerigg etc. Collections are every first Saturday of the month* 11am in Newcastle and 2pm in North Tyneside, local food donations supporting local food support groups.
Initially all food collected was for a single nominated charity however as word spread the number of volunteers snowballed and the volume of donations soared allowing the collection to support more and more charities, food banks and community groups in a single day.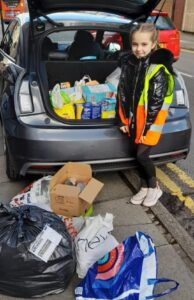 In April 2022 Tin On A Wall provided donations for 14 organisations, collected over 6 hours which included, Cedarwood Trust, Streetworx, Hazlerigg Community Centre, New Hartley Food Pantry, Justice Prince CIC Longbenton, Kenton Food Bank, Our Community Spirit Howdon, Seaton Delaval Food Hub, St. Paul's Community Partnership, Walking With In North Tyneside, Wallsend Memorial Hall, North Newcastle Food Bank, The People's Kitchen and Kenton Food Bank.
Exactly one year on, due the cost of living crisis, donation volume and donation variety has reduced considerably, so on Saturday 1st April 2023 Tin On A Wall could only support 8 organisations.
Now approaching their 30th collection the demand for food aid has soared as we ride a cost of living crisis. Food in many of the organisations who rely on this source to operate their services are finding that donations are not lasting, demand is doubling, trebling and quadrupling in some cases.
Tin On A Wall NEED more volunteers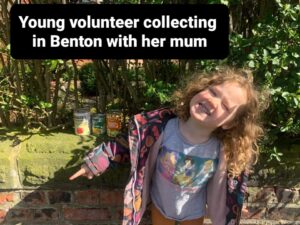 To continue to the increase demand for food, more volunteers are needed to cover more ground.
Could you become a Tin On A Wall volunteer?? A volunteer commits to a single month at a time, volunteers could do every month, every other month, every few months. Tin On A Wall provide you with leaflets, you leaflet your street or a few streets where you live a few days before collection day. On collection day, you simply collect any food left out by your neighbours and drop off at a location near by. Simple but effective!! You can do on your own, with friends, with neighbours or with the kids!
If you want to support Tin On A Wall on Saturday 3rd June, register you interest at www.tinonawall.co.uk today and you will be put on the mailing list for when the registration goes live.
*Due to the Kings Coronation on Saturday 6th May, our next collection is 1 week early on Saturday 29th April.